Installation Services
Techserve offers installation of products* purchased from retail outlets and trade at the customer premises. This includes office automation products such as multi function peripherals, photocopiers, Printer, security cameras, RFID device, EPABX, along with a range of audio video, and home appliances products.
Annual Maintenance contracts (AMCs)
Techserve offers competitive annual maintenance contracts (AMCs) for customers to ensure trouble free performance of their electronic items after the manufacturers initial warranty period has expired.
A variety of AMCs are available which can be customised depending upon the product category and according to individual requirements and specialist needs. Contracts are either time bound (eg: for a period of one year) and / or print volume based (eg: for multi function peripherals).
AMCs are available which support customers when they move premises (home or office), so that their units and equipment are relocated, reinstalled safely and handled with care by professional and trained engineers. For further information about AMCs, please contact Techserve to discuss individual requirements in further detail.
Collection from Trade and Retail sales outlets.
Techserve provides value added support for all major retailers and sales outlets by offering a collection and delivery service for customer units that require service and repair.
Retailers benefit from access to a UAE wide network with the distinct advantage of being able to outsource service and repair work to a trusted and experienced partner, whilst customers have a convenient alternative, with increased points to submit their units other than at Techserve service centres.
Techserve has a dedicated fleet of vehicles which covers the entire UAE for this unique service.
Customised Service
Techserve goes beyond the range of standard services that is expected by customers and provides bespoke and customised solutions according to individual customer requirements. This approach typifies Techserve's solution driven and customer centric philosophy which is a fundamental part of their success.
Techserve supports the following product categories:
Air Conditioners
Audio Video products
IT (laptops, desktops and peripherals)
Kitchen Appliances
Home Appliances
Office Automation products (multi-function peripherals, photocopiers, printers and Scanners)
Telecommunications (GSM mobile phones, PBX and EPABX systems)
Home Automation and system integration
System and software integration
Manage what matters most – secure your valuable Toshiba/dynabook product.
As an enterprise, you know the importance of your IT devices as essential parts of your business. With a range of individual services, dynabook helps you to take care of these assets and keep your day-to-day business running.
Whether you would like to extend your standard warranty, upgrade your support level or require an out of warranty repair – we focus on your individual needs to prevent you from any type of business downtime.
Offering a ranges of configuration services, geared to personalise your products and PC setup
Extend your warranty to up to four years and achieve maximum peace of mind
Need professional assistance – no matter where you are? We are just around the corner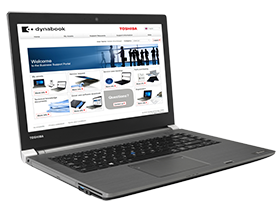 Allowing you to keep track of all your Toshiba/dynabook assets in one place